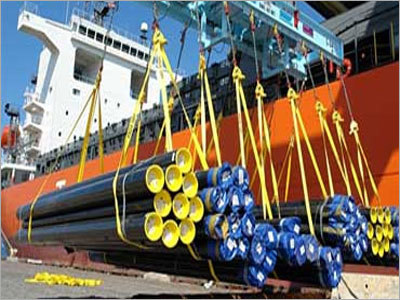 Break Bulk Clearance Services
Product Code : 07
Product Description
We are the main service provider of
Break Bulk Clearance Services
. In shipping, break bulk cargo or general cargo are products that must be stacked exclusively and not in multi-purpose compartments nor in mass as with oil or grain. Ships that convey this kind of load are regularly called general payload ships. This term comes from the expression breaking bulk the extraction of a bit of the payload of a ship or the start of the emptying procedure from the ship's holds. These merchandise may not be in transportation holders. Soften beef load is transported up packs, boxes, containers, drums, or barrels. Unit heaps of things secured to a bed or slip are additionally utilized by this
Break Bulk Clearance Services
.
Advantage of Break Bulk:
Break bulk keeps on holding favorable position in ranges where port improvement has not kept pace with transportation innovation.
Break bulk delivery requires generally insignificant shore offices a wharf for the ship to attach to dock laborers to help with emptying stockrooms to store materials for later reloading onto different types of transport.
Therefore, there are still a few ranges where break-mass transportation keeps on flourishing. Merchandise sent break-mass can likewise be offloaded onto littler vessels and lighters for transport into even the most insignificantly created port where the regularly vast holder boats, tankers and mass bearers won't not have the capacity to access because of size and additionally water profundity.
Disadvantage of Break Bulk:
The greatest impediment with break mass is that it requires more assets at the wharf at both closures of the vehicle longshoremen, stacking cranes, distribution centers, transport vehicles and frequently takes up more dock space because of different vessels conveying numerous heaps of break mass load.
To be sure, the decay of break mass did not begin with containerization rather the approach of tankers and mass bearers diminished the requirement for transporting fluids in barrels and grains in sacks
We specialize in break bulk clearance services, and we understand the break bulk cargo procedures. As an efficient logistics service provider, we execute professional work and meet your exacting need. We are well affiliated with all major ports in India. Also, we provide end to end solutions well suited to the clients' requirements. Our services are combined to provide an integrated break bulk clearance solutions. Our team's professional diligence has helped us to render impeccable services with special focus on loss minimization, professional management, optimizing turnaround time & accountability. We help you in reducing the overall costs, and establish excellent project cargo management.
With the industrial expertise and knowledge, we have served many clients for their cargo management effectively. We first understand customers' data, and tackle all works including requirement of documents etc. The entire process is handled by professionals who have deep industry knowledge. They keep up with up-to-date information of customs' procedures & norms.
What is break bulk cargoes ?
Break-bulk cargo or project cargo is a freight, which is excessively large to be shipped. Basically, it is loaded across multiple flat-racks and secured for the shipment. It comprises coke, coal, steel scraps and pulp etc. Here we meet your requirements related to heavy lift cargo or outsized cargo etc. Also, we have specialists for break bulk clearance services, and specialist tools, technologies. Our aim is to ensure maximum safety, security and effectiveness for your cargo project.