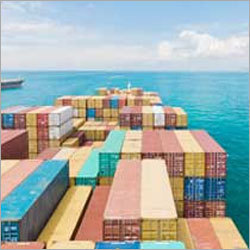 Sea Export And Import Clearance Services
Product Code : 03
Product Description
As far as shipment is taken up, the first alternative on the table is always via the use of waterways that is the most simple and handy way to trade the product crosswise borders and within the nation. We offer Sea Export and Import Clearance Services, which are highly affordable due to the progressions in technology and accessibility of services which simplify the process. Rendered services come with immensely huge network and web of advantageous contacts across the nation. The agents involved in the Sea Export and Import Clearance Services ensure that the procedure is of minimal problem and your import & export custom clearance can be done by sea. The services include exports and imports documentation.
With more than a decade of expertise, we offer trusted Sea Export and Import Clearance Services across the global ports. We ensure safe transportation of the import and export goods by adhering to the norms of professionalism and excellence. From the picking up the consignments to the delivery at the said destination, we ensure to meet all the legal rules and regulations of customs. We make sure that the importing and exporting of consignments through sea is professionally cleared with high level of comfort on time.
Complete Documentation Process
We effortlessly handle all the customs clearing of export and import consignments in Indian and international ports. Our matchless understanding of different provisions of the customs acts as well as rules in India helps us ensuring secured customs clearance procedures. We also make sure that all the significant documents are carefully arranged in advance for avoiding any last minute hassle. In addition, shipping bill, export or import bill is the prime documents essential for allowing the shipment cross the ports. We are well aware of all the obligatory documents of import and export goods that help us handling the documentation as well as payment process efficiently.
Prompt Delivery
The prime strength of the company lies in handling the custom documentations. After receiving the necessary documents for custom clearance, we ensure to provide the best possible advantages to the customers and also ensure safe delivery of their goods. We also ensure to provide the clients with the benefits of custom notifications and exemptions for avoiding any delay in custom clearance and any detention charges.

Particular benefits :
Oversee the administration of the intact import and export procedure on behalf of our local and global business customers.
Ensure fast and efficient custom clearance actions.
Assist all documentation electronically so as to save money and time.
Capable to navigate the plethora of laws as well as customs clearance standards.
Dedicated and proficient team of certified customs house agents
Services are provided according to the customs act and regulations in Indian and other international ports
Time to time pre-alert information provided to the customers about the consignment status
Handle all kinds of cargoes irrespective of the type, size and volume